A Spring Field Trip includes:
Educational Strawberry Experience
Each child picks a pint of strawberries
Honey Bee Encounter
Sample of Local Honey
Wagon Tour of the Farm
Up-Close Educational Encounter with Farm Animals
Pig Race
Tour of Animal Barn
Giant Playground
Cup of Strawberry Lemonade
Coloring Book
Combine Playground
Large Picnic Area For Lunch!
The Details
Field Trip is $10 Per Child
Two Teachers Come Free Per Class of 20
Parents and Siblings are $10/each
There are approximately 8 stations that the children will rotate through- We will organize it so that each class visits all stations.
Arrive between 9:00-10:00 at our Ashburn Location (look for our parking lot attendants for instructions)
It takes around two hours for one class to rotate through all stations.
After you finish the activities, we invite you to eat lunch at the picnic areas Teachers, and parents are more than welcome to order lunch once they arrive if they wish to eat lunch at our deli.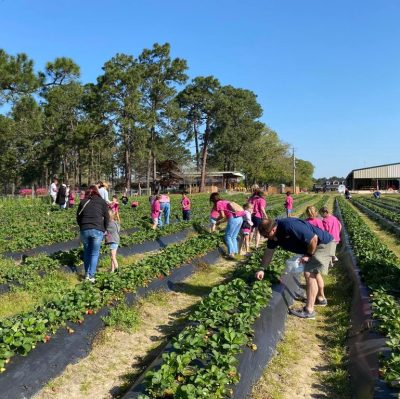 "Calhoun Produce is awesome. I went on a field trip there with my daughter. We went on the hay ride, where you get to see lots of animals, we saw a pig race, and we went through the huge corn maze. Our guide was great and kept the kids' attention the whole time, and they also have a deli and lots of unique other food items available to buy. All in all, it's a great place to go as a family or a couple."
–John D