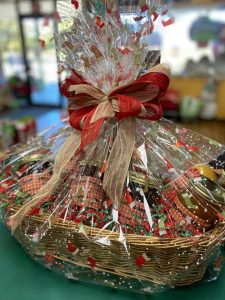 Calhoun Produce offers a variety of gift baskets, both premade and custom. Whether you're looking for a gift for a friend, family member, or employee, we have the perfect basket for you. Our premade baskets are filled with a variety of delicious treats, jams, sauces, and many more GA-grown items. We also offer custom baskets, so you can choose the specific items that you want to include.
No matter what occasion you're celebrating, a gift basket from Calhoun Produce is the perfect way to show someone how much you care. Our baskets are sure to be a hit with everyone who receives them.
Corporate Gift Baskets
Calhoun Produce can make the season of gift-giving for your company a breeze. We have a wide variety of gift baskets to choose from, or we can create a custom basket just for you. Choose from a large selection of Georgia Grown Items, from jams to sauces, dips to dressings, candies to crackers, and much more.
Here are some of the benefits of choosing Calhoun Produce for your gift baskets:
Our gift baskets are beautifully arranged and packaged.
We can add your business' complimentary items to your gift box or basket (caps, pens, cups, etc.)
We offer a variety of price points to fit your budget.
We can ship your gift basket anywhere in the United States.
If you're looking for a unique and thoughtful gift for your customers, clients, employees, or business associates, Calhoun Produce is the perfect choice. Contact us today to learn more about our gift baskets.