Spring Birthday Parties:
March 11th – May 13th 2023
Fall Birthday Parties:
October 7th – November 4th 2023
– Free admission for the birthday child.
– Each additional birthday party attendee is $12.
– A $50 deposit is required to lock in the date.
– Participants are responsible for plates, cups,
utensils, decor, etc.
– ALL party guests need an armband to enter the farm!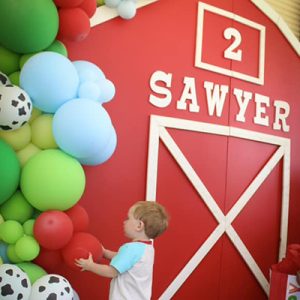 To enhance your birthday experience,
the Red Barn can be rented for $35.
Spring Party Packages:
Bronze Package: $175
---
10 Party Guest + Birthday Child
Wagon Ride to See Animals
Pig Races
Playground
Duck Races
10 Strawberry Picking Containers
10 Ice Creams
Gallon of Lemonade
Honey Bee House
Gold Package: $350
---
20 Party Guest + Birthday Child
Wagon Ride to See Animals
Pig Races
Playground
Duck Races
20 Strawberry Picking Containers
20 Ice Creams
Gallon of Lemonade
Honey Bee House
Fall Party Packages:
Bronze Package: $175
---
10 Party Guest + Birthday Child
Wagon Ride To See The Animals
8 Acre Corn Maze
Playground
Duck Race
Honey Bee House
Gallon of Lemonade
10 Ice Creams
Pig Race
10 Mini Pumpkins
Gold Package: $350
---
20 Party Guest + Birthday Child
Wagon Ride To See The Animals
8 Acre Corn Maze
Playground
Duck Race
Honey Bee House
Gallon of Lemonade
20 Ice Creams
Pig Race
20 Mini Pumpkins