What's happening at the farm..
SATURDAY HOURS: 9 AM -2 PM
FALL PEAS ARE READY!!!!!!
wednesday, september 27th
9 am-5:30 pm
Today: lady finger peas $42, pink eyes $36, cream $36 and Elites $36
We have washed, blanched and frozen butterbeans and all varieties of peas. These are packed in quart bags and ready for YOUR freezer. The work is DONE!
Call 229-273-1887 to reserve an order!!
WE also HAVE…
Sweet potatoes, onions, Squash, Tomatoes, okra
MUMS and PUMPKINS are here for your fall decorating!!!!
Stop in and try some of our jams & jellies! We have tasting daily.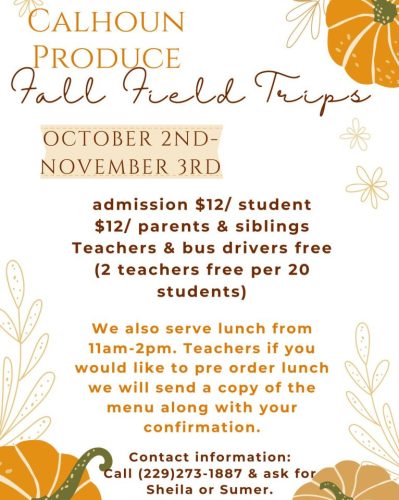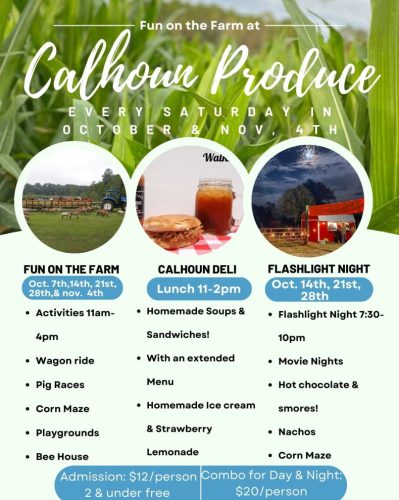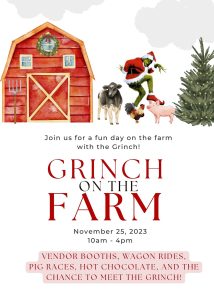 Call (229)273-1887 or email us at calhounproduce1887@gmail.com to become a vendor!
Field Trips
Visit Calhoun Produce for an educational journey through a true American Farm! Our "outdoor classroom" teaches students all about a day in the life of the farmer. Click the links below to learn more!
Farm Market Deli
Deli Open
Monday- Saturday
11 am-2 pm
Cordele Market
(Closed for the season- see you next year)
Check out this convenient store located at the Cordele Farmers Market!
Open Seasonally in June and July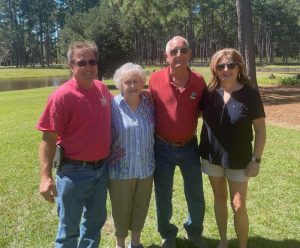 Calhoun Family
Who We Are
Calhoun Produce, Inc. was founded in 1982 by Gerald and Joyce Calhoun. Over the next 15 years, their business evolved from a predominate row crop farm to a diversified Agricultural Business. Today, Gerald and Joyce enjoy the company of their Son, Brad Calhoun, and daughter Sheila Rice running the family business.
The farm is a seasonal Agritourism hot spot. Families enjoy coming to pick strawberries in the spring, tour the farm on the Wagon Ride, see a Pig Race, experience the Honey Bee House, visit with the farm animals, and enjoy the corn maze in the fall. Calhoun Produce is also a local favorite for birthday parties and group events! We also host thousands of students each year for field trips. They learn all about life on the farm in the most exciting way in our "Outdoor Classroom"!
Location
Calhoun Produce
5075 Haw Pond Rd.
Ashburn, Georgia 31714
Only service dogs allowed.
Contact
Need additional assistance? Please contact us:
Hours
Monday- Friday
9:00 AM-5:30 PM
Saturday 9:00 AM – 4:00 PM